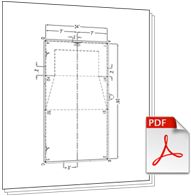 ---
This 47 page instructional manual for steel walled pools contains:
tools required
list of materials required
parts identification
pool layout
excavation
pool wall erection
in-wall step installation
skimmer installation
return fitting installation
main drain installation
cementing the walls
grounding
pipe & fittings installation
backfilling the pool
pool bottom preparation
coping installation
liner installation
completing the job
warranty
winterizing
safety standards
excavation drawings
Download Installation Instructions
---
This is the warranty for your Steel Wall Inground Pool and includes:
Lifetime Non-Transferrable Waranty
Warranty Registration Form
Instructions on how to file a claim
Download the Warranty
---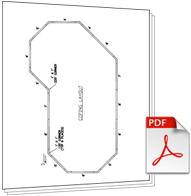 Scroll below to find dig patterns and diagrams for the following polymer inground pool shapes:
Download All Polymer Dig Specs
---
Not Sure What Kind of Inground Pool to Build?
We compare the two styles of pool walls below. So compare and contrast to find the material that is perfect for your backyard project.
Steel Wall Pools Available in:
Full-L
Grecian
Grecian Lazy L
Humpback Kidney
Kidney
Lagoon
Lap Pool
Lazy L
Mountain Oasis
Oval
Rectangle I
Rectangle II
Rectangle III
Roman
Venetian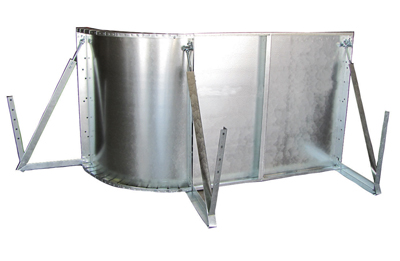 Steel Wall Features:
Top quality zinc-coated 14 gauge galvanized steel walls with "Z" rib internal supports for optimum strength
Stake-Lok panel construction for strength, stability and ease of installation
Wide top and bottom panel flanges for additional support with standard panel height of 42"
Sturdy, heavy gauge galvanized steel brace with drive stake assembly.
50 year limited warranty for original owner
Unparalleled strength and durability
Polymer Pools Available in:
Crescent
Gemini
Lagoon
Lazy L
Mountain Lake
Oval
Patrician
Rectangle I
Rectangle II
Rectangle III
Roman I
Roman II
Seville
Square L
Summerville
View all shapes
Polymer Wall Features:
Non biodegradable polymer walls are virtually as strong as steel and increase the longevity of the pool
Walls that will not rust, rot, dent, or corrode
Non-corrosive, sturdy bracing system with easy-to-use drive stake assembly
Industry standard panel heights of 42"
50 year limited warranty for the original owner
Engineering for superior strength and endurance
---
Sand & Cement Amounts for Your Inground Pool by Shape
Pool Size
Sand (Tons) /
Portland*
Portland* /
Vermiculite
Pre-Mix Bags
12 x 24
3 / 7
6 / 13
26
14 x 28
4 / 10
8 / 16
32
16 x 32
6 / 13
13 / 25
50
16 x 36
7 / 16
16 / 30
60
18 x 36
8 / 17
17 / 34
65
20 x 40
9 / 20
19 / 38
75
24 x 44
10 / 25
20 / 40
80
16 x 41 x 26
9 / 20
19 / 38
75
20 x 45 x 30
12 / 26
25 / 50
100
The actual amount of material needed will vary depending on the dig and thickness of the swimming pool base used. This table can be used as a guide. It is based on a 2" thick swimming pool base. The sand/portland mix is generally the best choice for most homeowners. The Portland/vermiculite or Pre-mix should be used for high water table areas and hard freeze areas.