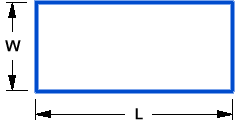 To provide the information necessary on a radius corner, extend two imaginary lines to a point where the sides would have met had the corner been square. Provide the distance from the break of the curve (point A) to the imaginary point (point B). If your pool has radius corners, select the correct corner type in the area above.
HINT: Use two rulers to extend the sides of your pool to a point. This will make it easier to measure from point A to B.
Measure pool size from water edge to water egde. Measure steps from outside collar to collar.
If side steps are flush, X will = 0